Registration for Returning Students:
STEP ONE: Registration for current Sturgeon students is done online via your PowerSchool Parent Portal Account. Once logged in on a computer, or a mobile browser,  please click on
Registration Confirmation. Please note this feature is not accessible on the PowerSchool app.
STEP TWO: Please select your courses for next year on our Course Selection page. If you have any questions about the process, do not hesitate to contact us.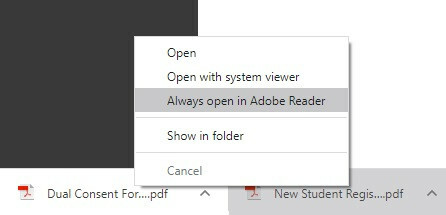 Registration for New Students
All New Students Must Complete..
Registration Package  ** Please note, students aged 18 and over are not required to complete the Parent / Legal Guardian section.
Additional Forms Required by Request
The forms below are only required if specified in the email you received from the school
IMPORTANT: These forms must be downloaded in order to save your inputted information.  When your file downloads, right click and select "Always open in Adobe Reader" (or your preferred PDF viewer), do not double click to open in your browser.
For assistance please read the following How-To document, or contact us with any questions.
Once your forms have been downloaded and filled out, please click below to submit them. Then, proceed to select your courses if you have not already done so. Click here to submit NEW Sturgeon School registration documents.
Course Selection: