Back to all posts
Posted on
Diploma Exams Optional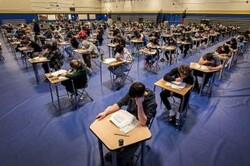 Diploma Exams Optional: Students, please indicate your preference.Diploma Exams
For students enrolled in 30 level Diploma courses, Diplomas have now been made optional for January, April, June, and August(Summer School) sittings. 
There are circumstances where students need to write diploma exams, including, but not limited to:
home education students if required by a post-secondary institution.
adult students who can write an exam without taking a course.
students who do not have a passing mark from their teacher.
students who want to raise their mark or are interested to have a diploma exam mark on their transcript.
Check with your intended Post-Secondary institution to confirm their acceptance of a Course Mark without a corresponding Diploma Exam mark.
Students have up until the date of their exam to decide if they would like to opt-out, however, students are encouraged to communicate their preference to their  teacher as soon as possible, as this will help us prepare for administration of exams.
Once your decision has been made, please click here to indicate your preference.
Thank you,
Sturgeon & Morinville Learning Centres